S O H O C E N T E R ' S E X P A N D E D B O O K G I V E A W A Y S
T O U V A C H I L D R E N ' S H O S P I T A L


.________________________________________________________________________________________________________________________________________________________________________________________________________


Over 500,000 Books for Children



.

Monthly Delivery of 9,000 Children's Books - Click Here (60 seconds)

.
Video Update on Soho's Book Giveaways -
Click Here
(60 seconds)
.
Soho's "Free Books" Carts at UVa Children's Hospital -
Click Here
(30 seconds)
.
.
Books Arriving at Soho's Warehouse -
Click Here
(32 seconds)

.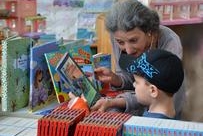 Since 2013, Soho has donated over 500,000 quality children's books to UVa Hospital
for sick children and their siblings. Each month, about 9,000 books are given away to children.
When Soho's donation to UVA reached 60,000 books, Soho's Book Giveaway was featured as
the Top Story in UVa's Connect Online magazine. To read the whole story, please
Click Here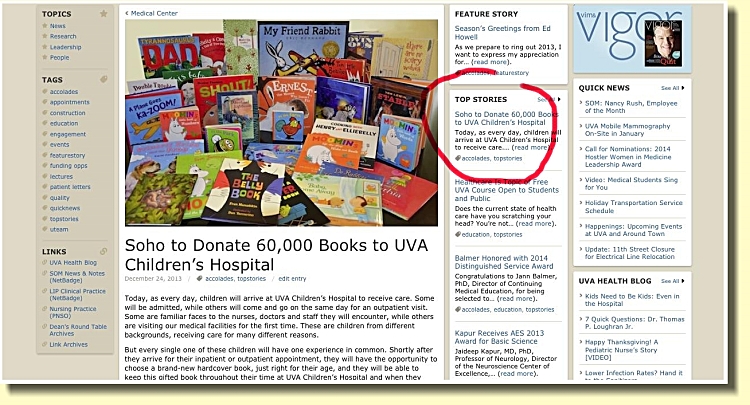 And when we reached 200,000 books, UVA did another wonderful story about our Book Giveaways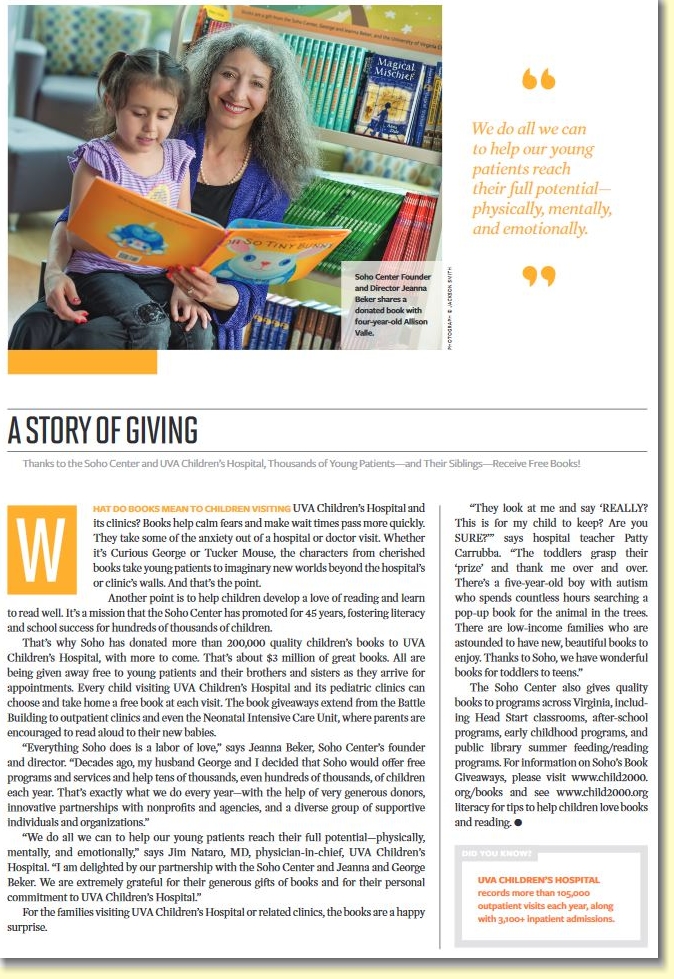 Preparing Soho's book donation for UVa Children's Hospital. The books are given away to children with juvenile diabetes, cancer, heart problems, autism, and other medical conditions.

The book carts are now on multiple floors of UVa's new Battle Building for children and their siblings to select gift books. Book carts are also in pediatric offices in various locations.




Ed Howell, now-retired UVa Hospital CEO (left) and Bo Cofield, former Associate Vice President for Hospital and Clinics Operations, enjoy a light moment with Soho's Director, Jeanna Beker, at a planning session for Soho's Book Giveaway project.





Pamela Sutton-Wallace, CEO, UVa Hospital (left) and

Jeanna Beker

look through a few examples of the children's books that Soho has donated to UVA Children's Hospital.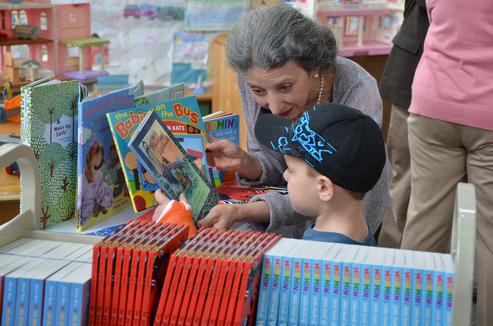 Jeanna Beker helping a young patient select a book from the Book Cart


.
Please click here to see

CBS Channel 19

's
coverage of Soho's initial 10,000 book donation
to UVa Children's Hospital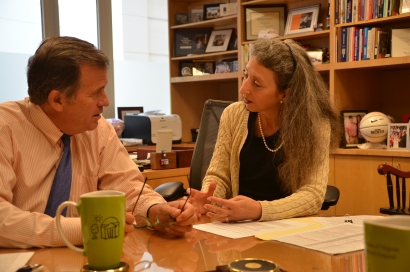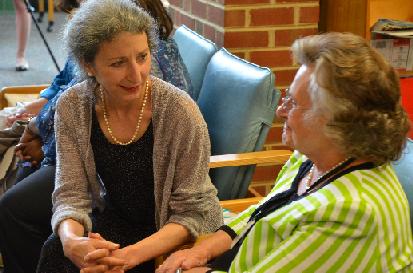 Jeanna Beker planning Book Giveaways with Ed Howell and with Nancy Artis, former Education Director,
UVa Hospital Education Program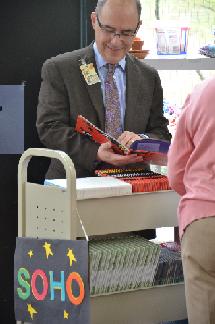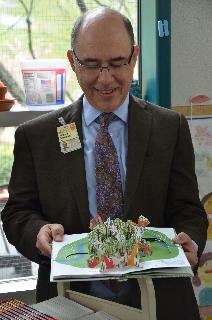 Dr. Richard Stephenson, Chief, Developmental Pediatrics, at UVa Children's Hospital
enjoying some of the books donated by the Soho Center


_________________________________________________________________________
.

Back To
Book Giveaway Menu